There are many reasons why you might want to upgrade, update or install lighting in your home or office. Lighting is essential as it brightens up the premise as sometimes there are areas in your premises that have lack of lighting which make it difficult for you.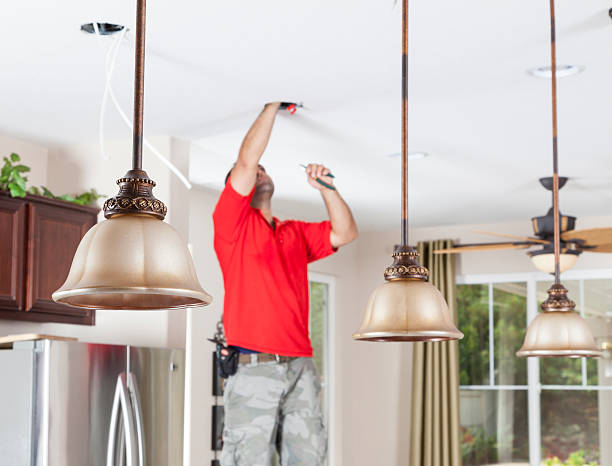 It is ideal to hire professional to get your lighting installed in your home as they can provide you with the best advice on which time of lighting best suits your home. Some customers have preference such as wanting a lower voltage light that saves power which is why a professional is best when it comes to making this decision.
We are professional electricians as we can help you pick out the best lighting needs that your premises deserve. It may be just upgrading your current lighting but we also provide services for customer who seek for new lighting to be installed in their home. There are various types of lighting installations such as track lighting, recessed lighting, pendant fixtures, wall lighting, under- cabinet lights and also wall fixtures. We cater to all of your needs and we do provide advices for customers who are seeking for help.
We are your best choice in providing electrician advice and services around the Klang Valley and certain areas in Malaysia. Staffs of our team have more than 10 years' experience in this industry.
As a team of professional electricians, we do provide other services ranging from installation of auto gates, water heaters and CCTV's to electrical services for problems such as power tripping, burnt fuse and faulty circuit breakers.
We provide professional electrician services for customer who seek to install or upgrade their lightings at their home or office. Our team are very responsive as we make sure that all of our customers are satisfied with the level of work and preciseness that we offer them when we are installing their lightings.
We have branches mainly in Klang Valley. Besides, our team is also specialisized in Kuala Lumpur area like in KLCC, Bangsar, Cheras, Kepong, Setapak, Bukit Jalil, OUG, Seputeh, Old Klang Road and Putrajaya. As for Selangor, we cover Sungai Buloh, Petaling Jaya, Klang, Shah Alam, Subang, Puchong, Gombak, Ampang, Seri Kembangan and Serdang.
As a whole if you have any questions about any lighting related works, do not hesitate to contact us. We will provide you with sufficient advices on lighting installations that will help you decide on what's best for you.